Spring in the Midwest is a fickle season. March started out lovely and then went back and forth between cold and rainy to lovely and well it continued into April. Gross! Once Valentine's Day has come and gone I am basically ready for spring weather, spring attire and playtime to take place outdoors daily.
In hopes of inspiring the weather to remember spring had sprung, I spent last week spring cleaning. I clean the house on the regular (read weekly) but there are some tasks that don't get done on the regular. Here are 10 things to add to your cleaning routine to get your house spring ready!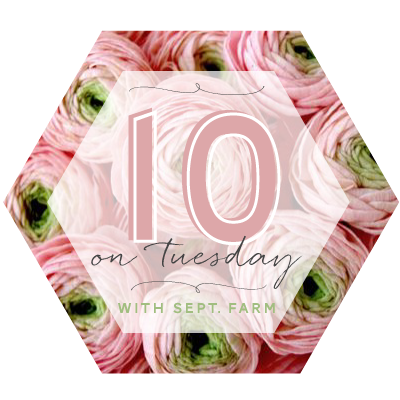 1/ Refrigerator and Freezer: I emptied everything out, tossed anything that needed to be and wiped our all drawers, shelves, dispensers, etc before placing the items back in. I did this before a grocery store run so my fridge was pretty bare which made the task simple. I didn't think our fridge was dirty but it certainly was more organized and my husband noticed!!! Cue the face of shock!
2/ Behind oven, fridge and top of cabinets: These spaces just collect dust and because we don't see them
often
ever
they tend to get neglected. It was a simple extra step that didn't require much time or effort but the "cleanliness next to holiness" side of me just loved sucking up those dust bunnies to be banished forever!
3/ Bedding: We went beyond the typical sheet change. We washed all the bedding; pillows, mattress pads, blankets, duvets, bed skirts. It was a LOT of washing but I just think of all the unseen dust and such that was washed away.
4/ Blinds: The most tedious, painstaking task of my spring cleaning routine. Section by section, dust them off. They do get so dusty and I noticed this week when cleaning my house did seem noticeably less dusty than usual. I'm just going to attribute that to being a HUGE help!
5/ Windows and windowsills: We have our windows open a LOT during the fall and then with winter and all that moisture, the windowsills can get quite dirty. I will need to take the screens out and hose them off but that will be another weekend now that the weather has warmed up.
6/ Diffusers: We use our YL diffusers every night and I don't always clean them as often as I should. I just learned that the oils can actually build up in our diffusers over time and cause them not to work! YIKES! So I let distilled vinegar sit in them about 8 hours (put some in when you wake up), ran it with the vinegar in it for 3-5 minutes then, emptied it, used water to clean the tight spaces and rubbing alcohol on the metal disc. Super simple!
7/ Purge everything: I went through all cabinets, drawers, and closets in every room (including kitchen and bathroom, hall closets, entryway closet). I switched out clothes for a new season, got rid of tones to donate or put in our spring garage sell. That task made our whole house feel more put together.
8/ Vacuum: Walls, baseboards, corners, air vents. Vacuum EV-ER-Y-THING! Use the attachments, move the furniture, and get to work!
9/ Vacuum: No this isn't listed twice by mistake. I clean our vacuum every few months but after a spring cleaning, it needed done again. We have a shark and I empty out the canister, wash and rinse the filters and wipe out all the parts I can. We want to actually have our vacuums work well right?
10/ Light Fixtures: There are some I do pretty regularly but others I just overlook. I did them all when I cleaned. Bathrooms, hallways, entryway, bedrooms! ALL OF THEM! It wasn't too hard but it did make me want to update/replace some of them! Ha!
Here is a spring cleaning checklist I used. I broke my house into phases and it took about 3.5 days. Do you spring clean? What would you add?